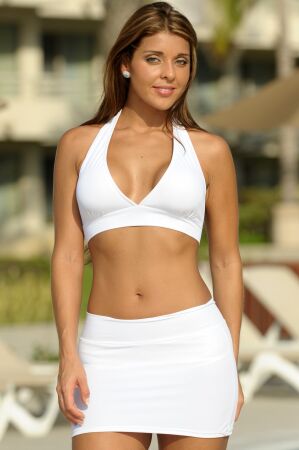 Cool Cocktail Skirted
L284
UjENA Cool Cocktail Skirted This halter banded skirted bikini is the perfect bikini and outfit all in one. The Coconut Matte fabric will have you looking fresh and ready for the sun, strolling along beach shops or sipping a cool cocktail at your cabana! Banded Halter top looks great on every body and the skirted overlay bottom is perfect for those who want a little more coverage! Or add a bikini bottom F268
$118.00
Flutter Flip Skirt
V706
Flutter Flip Skirt in black Matte Band and black Festival Lace skirt is designed to pair with our Flutter Bikini V232. The easiest cover up, just slip it on and it stays put! Fold the band down for a lower fit on the hips. The Festival lace from the bikini bottoms can drape over the top of the banded skirt to add more flutter! The flair in the skirt is comfortable and yes, a bit flirty! Swimwear safe to add to any bottoms. Fashion, Fit, & Function.
$49.00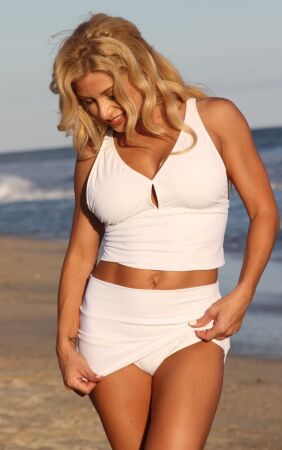 Islander Banded Tankini
V305
The Islander Banded Tankini in white matte is the all day summer outfit. Go for coffee at the cafe in the morning, shopping, and tennis in the afternoon to cocktails at sunset. The top is styled like our minimizer top with a longer band under bust, adjustable over the shoulder straps and a little peek a boo at the cleavage. The Minimizer Halter is supportive for larger busts but can make smaller busts look bigger and looks great with pants. The Banded skirt is A line to offer a flair to the hips and has a high waisted wide band that can easily fold over to a low hip and long enough to offer coverage at your thighs with a full built in bikini bottom. Fashion, Fit, & Function.
$133.00